International Freight Calculator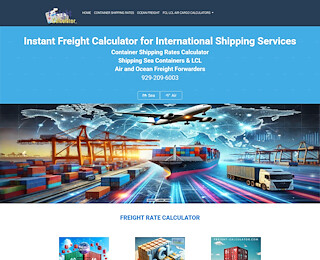 Of all the freight calculators in existence, freight-calculator.com is extremely convenient and quite easy to use. Simply enter your dimensions and approximate weight into the calculator, and our software will do the math for you, giving you a perfect or next-to-perfect quote every time (the accuracy of our quote depends on the accuracy of your dimensions). You may have a higher (or lower) charge than our Freight Calculator gives you when your cargo arrives at our warehouse if the dimensions of your load are different than what you initially entered into the Freight Calculator.
You may enter your dimensions in whichever way is convenient for you. Freight Calculator allows users to enter dimensions in the following ways:
1. You may enter the dimensions of a single piece of cargo and select the number of pieces if all of your boxes are have the same dimensions.
2. You may enter the dimensions on the Shipper Worksheet if each piece of cargo has unique dimensions.
3. One of the most common and straight-forward ways that our clients use the Freight Calculator is to enter the cubic meters or cubic feet as a total value. Just enter "1" as the approximate Weight and Quantity.
The weight of your cargo isn't as important as the dimensions. Just remember, the weight is only for our reference. We never bill our clients based on the weight of their shipments. We charge solely based upon the total space that a load takes up inside our containers after it has been palletized, wrapped, and banded at our warehouse.
Also, keep in mind that Freight Calculator offers discounts for industrial clients whose cargo is pre-palletized. Household goods must be palletized for the safety and well-being of our workers as well as your belongings.
Freight Calculator Offers Full Container Service
If you have larger furniture items, it may be advisable to purchase our full container service. Furniture needs to be protected more than other household items during export. Full container service is more expensive than our regular service, but packing requirements are much less stringent with full container service, and you'll be able to self-load with full container service.
Cargo is shipped once a week to more than 300 international destinations. A schedule will be given by text, phone call, or email once you have your quote. Included will be a reservation number, sail date, and warehouse location nearest to you with cut off date. You may bring your load to the warehouse personally, or we can come to your place and pick it up for you. We also offer free warehouse storage for up to 30 days preceding a shipment.
How Will I Get My Stuff?
Either you or someone of your choosing can pick up your cargo in-person, or we can deliver it to an overseas address. You may track your cargo in real-time, and we will promptly notify you once your cargo has arrived at its final destination. All of our containers are fully insured for your protection, and we partner with only the most trusted and reputed network partners across the planet. Put simply; your stuff is safe in our care! As you can see, other freight calculators and ocean shared space providers pale in comparison to Freight Calculator.
Related Post
Shipping Freight Calculator
To find the best and most cost-efficient shipping service and rates, a shipping freight calculator can come in handy.
Many businesses like and individuals rely on freight shipping calculators to assess beforehand the amount that they have to pay when they need to send something overseas or to another location. Without shipping freight calculators, it would be easy to pay more than the intended freight cost. For the freight forwarders, it would be added workload to estimate the cost of the service manually.
There are various types of shipping calculators available online and with basic knowledge of these shipping freight calculators' options and functionalities, we can find the best shipping fit to our needs, preferences, and budget.
Purpose of a Shipping Calculator
Shipping calculators are a software solution which was built to make shipping service details and rates accessible to different users, presented in an intelligible and meaningful format. These calculators are also made to streamline and fully automate the computation task otherwise manually done by freight forwarders as answers to service and price requests from their customers.
One major challenge in coming up with a useful and user-friendly shipping calculator is the tediousness of the process of incorporating all necessary factors in coming up with a pricing response. This very process involves product and service pricing, along with destination facilities, the origin of the package, timing details, and other relevant operational details.
On the part of the freight service provider or the freight forwarder, this shipping calculator provides a chance for them to get involved in various pricing requests without the need for the manual workload. Apparently, this process helps them build and cultivate the value of market transparency, something not all freight service providers are willing to divulge and observe.
Parts of a Shipping Freight Calculator
The end result or the output of a shipping freight calculator is achieved by considering all the data input provided by the end user. Usually, the basic requirements for calculation and display of pertinent shipping choices include the point of origin of the cargo, the destination of the cargo, the time for pick-up, and what's inside the package. Additionally, in the case of advanced and more sophisticated shipping freight calculators, pricing for every kind of service levels are made available upon request. This can be done by including factors like customs clearances, delivery dates, and pick-ups.
At the minimum, the end result of the shipping freight calculator can include service provider details and information, total service price, date and time of departure from pick-up location, estimated time of arrival at the destination, and list of available services. In the case of advanced shipping freight calculators, they can show a comparison of various shipping choices depending on the pre-inputted and pre-determined metrics.
Currency and Exchange Rates
One basic and important feature of a good shipping freight calculator is its ability to include various exchange rates and currencies into its functionality. This feature is important in getting the accurate cost of shipping shown in the currency of a specific user.
Also, it is mandatory, as part of the 7 pricing components necessary for a shipping freight calculator, that shipping calculators will be available in local currencies of its specific users.
Visit our website www.freight-calculator.com for more information.
Freight Calculator in Shipping: An Indispensable Tool in Business Expansion
We live in a global village. As such, everything is now interconnected. With just one Skype call or click of a mouse, you can send or receive orders from virtually anywhere across the world. There is also a freight calculator in shipping should you need one.
You have to note, though, that getting the goods from your factory to the other side of the planet is not as simple as it seems.  Whether you are an exporter of electronic hardware, a maker of high-end furniture, or in the property business such as Panoramic Properties, you need a reliable system of transporting your products.
Freight shipping has, therefore, become an indispensable component of every business, whether for start-up ventures or multinational companies operating across several continents. Your primary concern is to ship your items as fast, efficiently and safely as possible.
With the help of a freight calculator and a reliable shipping company, you are essentially moving your products over vast distances via land, sea, and air. To get your custom-built chairs to your buyer, they will have to travel hundreds or thousands of miles across states or continents and arrive at the best condition possible.
Freight shipping is considered as one of the most cost-effective ways of sending products due to the following reasons:
Freight providers work with some of the top-ranked freight carriers. In moving goods, especially the highly perishable and valuable ones, it is essential that logistics companies work with the best carriers which are known for their dependability and efficiency.
You will reduce your shipping costs. The key to a successful business is being able to cut down on overhead costs. This will allow you to channel your saved funds on more important logistical needs and requirements.  
Time can be your ally. Running a business is always a race against time. You do not only have to ensure that the company's shipping schedules are met but carry this out at the most affordable cost. Freight shipping can do this for you.
As a customer, there are several modes of freight shipping you can choose from depending on your particular needs. This includes the following:
Full Truckload. This means that you are transporting products that weigh more than 15,000 pounds. With this kind of load, your use of an entire semi-trailer is justified. More importantly, this is the best way to lower your freight costs.
Less than truckload. This mode is typically utilized for moving products that are from 500 to 15,000 pounds in weight. Also called LCL, you can use this type of shipment for goods that are the size of a parcel but will not be able to fill up a trailer.
Partial truckload. The advantage of this mode is that you will be able to share transport costs with other shippers and consequently enable you to bring down your logistical expenses. If you are planning to ship about 5,000 pounds, this could be the best option.   
Expedited. If you want your shipment to reach your customers at the soonest possible time and avoid any form of delay, this is the mode you may want to avail of. This kind of freight is usually transported by plane or truck.
Intermodal. To ensure the timeliness of delivery, this mode combines the use of trucks and planes. On the other hand, several types of transportation can also be utilized such as railway, shipping vessels of trucks in order to increase the efficiency of movement.
So, if you are planning to expand your business, reach wider markets and maximize profit margins, you need to factor in freight shipping into your overall operational costs. Visit Freight-calculator.com and know the amount you are going to pay. We will give you our best service when it comes to freight calculator shipping. Call us at 305-815-3619.
Freight Calculator is home of the LCL Less than Container Load Ocean Consolidations Shipping Calculator. Freight Calculator is a one-of-a-kind tool that gives you the convenience and simplicity of being able to quote and reserve ocean shared space with the click of a couple of buttons. Our Freight Shipping Calculator ships from more than 20 warehouses located throughout the United States to hundreds of cities internationally.
Export and Arrival
You will have the same choice at the time you ship and receive your cargo. We can come to your place and pick up your load, then ship it to your final destination, or you can drop it off at any of our numerous warehouses. Then, you or someone you approve of may pick up your cargo in-person, or we can deliver your belongings directly to your new international address for you. We will work with you and coordinate closely throughout the entire moving process. You may track your cargo in real-time, and we are happy to communicate by whichever means is most comfortable for you, be it the telephone, email, or other means.
Once your load is at our warehouse, we'll bring an ocean container from the seaport to our warehouse where your cargo will be loaded into the container. Then, we'll return the loaded container to the seaport where it will be shipped to your final destination. Freight Calculator typically ships cargo out once a week. Therefore, we offer free storage for up to 30 days in our warehouse prior to shipping your cargo. You may add more cargo at any time prior to your container's shipment.
How We Bill
In order for us to remain in compliance with federal maritime laws, we will provide you with a unique reservation number. Before we can issue a reservation number, we must receive estimates of your cargo's dimensions and weight. Then, once your cargo arrives at one of our warehouses, an accurate weight and measurement will be taken, and you will be issued a dock receipt.
You might be happy to know that we don't charge by weight. Instead, we charge only by the exact amount of space that your cargo occupies within our container. So, if two items are the exact same size, and one item weighs 50 lbs. while the other item weighs 5,000 lbs., you will pay the same price to store said items. Please note that we have a minimum requirement of 1 cubic meter per container.
How to Get the Most Accurate Quote
To get the most accurate quote upfront, it is important that you know the approximate dimensions of your load. One of the easiest ways to figure this out is to purchase your boxes from www.uline.com. Here, you will get very accurate dimensions, and your boxes will be quickly shipped to you. If you have your own boxes, another way to get a fairly accurate approximation of the dimensions of your load is to draw a 4ft x 4ft square on the floor and visualize about how high the stack of boxes will be. Contact Freight Calculator if you have any additional questions regarding our services or how to use our Freight Shipping Calculator.
Freight Calculator
305-815-3619
2250 Northwest 96th Avenue, Miami, FL 33172
View Larger Map
We welcome your comments!