International Freight Calculator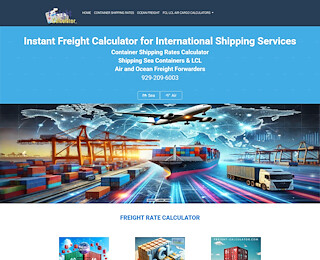 Ocean Shipping: 5 Tips When Moving Overseas
Moving from one place to another may be exciting at the onset but once you start to realize the amount of work that needs to be done to facilitate the moving process, you can feel overwhelmed. All the more if you have to move to a different country. Aside from the physical demands of moving out, you also have to consider the costs involved like freight cost for air shipping or for ocean shipping.
Here are five simple tips suggested by Freight-Calculator to make your overseas transfer smooth and hassle-free.
Check the rules and regulations pertaining to shipments of the destination country. Check the process on how you can clear your personal properties at customs. Also, check if you need special permits before you load your cargo. Ocean shipping and freight rules can be really fiddly. There are countries which require certain documentation so that you won't have to pay taxes again. In other countries, there are specific items you are prohibited to bring. Make some time researching on these matters or if not, you can seek the services of a broker at that country to help you verify these pieces of information.
If you want to ensure your belongings when moving overseas, it's practical and logical to take photos of every item you'll ship. In the event that you need to file for an insurance claim, you can use these photos as proof.
Make sure to pack your cargoes securely and safely. When shipping containers are loaded, these cargoes are moved swiftly so if you don't pack it well, there is a very high chance that the same will be damaged or spilled while in transit.
Remember to fill in every space in the cargo. If there are huge spaces between things inside a package, when it moves, there's a high chance for damage. The same principle follows in terms of putting personal stuff into your moving boxes. If these things will move back and forth while inside your box, you can expect them to be damaged when you receive them at the destination.
To secure a cargo, make use of cargo straps. The wooden ones used for dunnage may be tempting to use since it's easier to access, however, these wooden packaging might need to be stamped or heat treated at the destination, depending on that place' regulations. If customs find out that these pieces of wooden packaging are not treated, you might need to pay steep fines.
Also, to avoid overspending on ocean shipping freight, you can coordinate with your mover or with the shipper and ask for a price quotation on the packages that you will have to send. Maximize every space you have in your moving boxes and cargoes so that you can save on the freight cost.
Moving overseas can indeed be very stressful and costly but once you have everything planned, from packaging to costing and actual moving, you lessen the stress and the cost by leaps and bounds.
Related Post
RORO
Short for Roll-on/roll-off ships, RORO is a type of sea vessel which is specifically used to load and transport wheeled cargoes. This kind of sea vessel is not the same with lo-lo, short for lift on-lift off ships. The latter kind is also specifically used to load cargoes, but with the use of a crane.
With built-in ramps, motor vehicles are loaded into, and unloaded from, the RORO ship. Usually, these built-in ramps are placed on the ship's backside and towards the ship's stern. Then again, there are certain kinds of ships which place the built-in ramps on the sides and on the ship front. RORO vessels can either be a civilian ship type or a military one.
History of Ro-ro Ships
This type of sea vessel was built during the 19th century with the sole purpose of transporting huge and wide trains across rivers. Firth of Forth is a classic example of a vintage ro-ro ship. This vessel started to operate in 1851. Its rails were placed inside the ship so that the same can be easily connected with the rails on land. As such, when it has to be loaded on the vessel, the train will simply roll inside the ship and then roll-off on the opposite end of the same ship.
Weighing 75,100 gross ton (GT), MS Color Magic is the world's largest roll-on/roll-off commercial passenger vessel. It started operating for Color Line last September 2007. The said RORO ship was created and perfected by Aker Finnyards in Finland. MS Color Magic is 35 meters wide, 224 meters long, and has the capacity to hold almost 1,300 lane meters of cargoes and to carry almost 600 cars.
In terms of car-carrying capability, nothing will compare to the RORO passenger ship vessel named Ulysses. It got its name from a famous novel written by author James Joyce and is a property owned by the Irish Ferries. It started operating on March 25, 2001, and it was in service between Holyhead and Dublin, and vice-versa. It is almost 32 meters wide, almost 210 meters long, and weighs about 50,938 gross ton (GT). In terms of car and cargo carrying capacities, Ulysses can carry almost 4,200 lane meters of cargo and almost 1,350 cars.
Advantages and Benefits of RORO Vessels
RORO vessels have a wide array of benefits and advantages not only for businesses like Freight-Calculator but for those engaged in export, import, trucking, and hauling. Among its many benefits and advantages are the following:
For those engaged in the shipping business, RORO provides the speed advantage. Since lorries and cars can just be driven towards the ship while on port and just also be driven off when it's time to unload in another port, there is a huge amount of time saved by the shipper.
Aside from that, RORO ships can easily integrate into other forms of transport development like containers. With custom-sealed units available for use, frontiers can be easily crossed and navigated sans the delay.
RORO ships have also become very popular among private vehicle owners and among holidaymakers. The ship itself has been a great contributed to the tourism industry of each area they travel to. Any car owner can just take his vehicle with him if he wants to travel by sea to any destination country or city.
Things to Know About LCL Shipping
When you are into business and need to send some products to a client, you may have been faced with a dilemma: should you consider full container load (FCL) or less than container load (LCL)?
If what you are shipping to your client is not that much, or cannot fill up one full container, LCL is the one you should opt for. This shipping option means that your product will only be occupying a certain space in the container. Thus, there are other products of other entrepreneurs that may be included along with your shipment.
The LCL shipping type is also known as a shared mechanism wherein a consolidator will be the one who will gather the products from different shippers and have them shipped using the same container.
As part of that particular container load, you will only be paying a minimum rate when you are considering LCL shipping. Meanwhile, if you have exceeded the maximum weight allowed for such a rate, you will be charged based on the dimension or the area that your products occupy inside the container.
Deciding to go for LCL has its own advantages. You may check them out in the following list:
It is more affordable than the other option. While LCL appears more expensive than FCL in terms of a full container rate, you can never deny the fact that it is more affordable. When your product for shipping is only limited to a few pieces, you will not be burdened of paying for the entire container-load.
It is highly flexible. With LCL shipping, you will not be forced to ship products enough to occupy all spaces inside the container. In short, you will only pay according to how much space you have occupied in the container. Unlike FCL shipping, you have no choice but to pay for the entire load capacity.
Delivery is more convenient. When you are going to import some goods, delivery is more convenient if you choose the LCL type. The goods will be delivered to you via a truck. You can even ask for a smaller truck if you think that a huge one cannot get through your delivery address. In short, unloading will just be easy. However, with FCL, the goods will be delivered via a container on a gigantic truck. You can expect that the unloading of goods will be difficult.
Inventory of products or goods is low. The chance of experiencing over inventory is far from happening because you can keep your stocks lean. The fact that you are only getting a small shipment, it means that you can consume such at a short period.
Splitting of shipments is easier. If you are sending shipments to different locations, it will be easier if you are getting LCL shipping. You can split such and get them shipped to the intended recipients through different containers. This is easier and more convenient rather than paying for a number of FCLs going to various destinations.
If you are getting some home fixtures for a property, then, you can always look for a company that offers the best LCL package which is none other than Freight-calculator. Visit our website or call us at 305-815-3619.
Know How Ocean Freight Works
Ocean freight has been known as a widely used manner of shipping goods from one point to another. In fact, it has been a major component of international trade.
Whether you are exporting or importing, you can do so with the help of shipping companies that offer full container load (FCL) and less than container load (LCL) arrangements. You can go for the FCL option if you are sending or receiving a filled-up container, or LCL if you are only expecting a small number of goods and cannot fill the whole container. The latter is also called shared shipping.
According to a report, international trade done through the ocean accounts for 60 percent of the entire business activities worldwide. It is worth noting that container ships carried a total load of 1.7 billion tons in 2016. The same report revealed that the container ships' capacity climbed by around 10 times, from 1990 to 2016. In the meantime, it has been projected that the number of container ships in the global trading arena would reach 5,000 by December 2020.
Ocean Freight Rates
When taking advantage of an ocean freight service, one of your considerations would be the rates you are going to pay. Would the shipping cost be maximized considering the volume of goods you are sending or receiving? Which among the available shipping lines should you deal with? These could be the questions that you are going to think about when making a shipping-related decision.
No matter what decision you would have, you may check the following factors that compose or dictate the ocean freight costs:
Fuel Used. When it comes to transportation, no matter what mode you are seriously considering, the cost of fuel will always form part of the payment you are making. The bunker fuel's price is basically dictated by the cost of oil in the international market. Therefore, if oil prices are low, you can expect that the shipping cost would be more affordable as well.
Supply and Demand. You can expect that the ocean freight rates would be higher if there is a strong demand for certain goods in a particular period. If these commodities have a high demand in the international market at a given season, you can anticipate a movement in the shipping cost, too. This is happening because many traders of such product will be booking a freight service during that season.
Currency. If you are talking of trading in the global market, the currency, such as the US Dollar, plays an important role. Of course, you already know that it is the widely accepted currency used in dealing with a buyer or supplier from a different country. In short, if the dollar rate changes, there could be changes as well in the ocean freight costs.
Destination. Think about the fare you are paying when going somewhere. The rate is definitely higher when the destination is farther from your starting or pick-up point, right? This is also the case in shipping. The company is expected to bill you higher when the destination of your cargo is farther from your location.
For more details, please visit freight-calculator.com or call our global telephone number 305-815-3619.
Freight Calculator
305-815-3619
2250 Northwest 96th Avenue, Miami, FL 33172
View Larger Map
We welcome your comments!