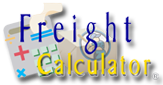 The First of its kind shipping freight-calculator developed in 2001.
Ocean Container Shipping Rates will be displayed on screen in seconds.
Ocean Freight Rates and Air Cargo Shipping Rates are automatic using the online shipping calculators.
International Shipping Freight Calculators provide instant shipping quotes from all the major airports and ocean ports.
Ocean Container rates and Air-Cargo Rates will appear instantly on-screen.
International Shipping quotes can be booked online.
For any questions and help in filling out the calculators
call 305-597-0258 or email andy@freight-calculator.com
International Shipping Calculators are programmed with the most competitive
Air and Ocean shipping rates in the industry.
"Our Reputation For Service is Our Most Valued Asset"

International Freight Calculator, Freight-Quotes, Cargo Rates and Bookings Online

Copyright

Global MAX Network, LLC. - All rights reserved 03/15/2018 Member of Global MAX Network, LLC