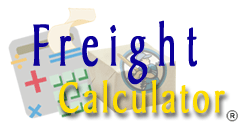 INTERNATIONAL SHIPPING RATES
"Automatic Freight Quotes From USA and Booking Documents For International Cargo"
Our unique set of online shipping calculators will provide you with international shipping rates from USA in seconds. Our complete staff of in-house international ocean freight forwarders will provide you with solutions that will save you time and money. We are the shipping company, NVOCC, and not a broker. We are uniquely poised as a global logistics and international NVOCC shipping company. What is a Freight Forwarder NVOCC?
Our innovative automatic freight calculator can quote shipping cost and assist your every need in seconds from any city in the USA to any of the overseas ports listed. As industry leaders we developed the first online freight calculator in 2001 for FCL and LCL Cargo. Shipping LCL and Full Ocean Container rates from over 50 origins to over 400 destination ports worldwide are posted automatically for your review along with shipping protocols and documents. SHIPPING LINKS: Shipping to Hawaii and Guam / International Shipping Resources / Shipping Terminals in USA / Table of Ports For Ro-Ro International Car Shipping / Freight Forwarders / What is a Cubic Meter?
T.S.A. - I.A.C. SHIPPING FROM USA - FMC N.V.O.C.C. (O.T.I.) #019153NF INTERNATIONAL SHIPPING COMPANY - Since 1991

Copyright Air Parcel Express, Inc. The NVOCC logo is a registered Trademark - All rights reserved 12/05/2015